Shaver Lake Weather
_________________


_________________


_________________




Visit your Pacific
Southwest Forests
_________________
Time Marches On Series
Part I: Big Creek Flats Story -

Printer friendly
Part II:WWI Breaks Out -

Printer friendly
Big Creek Flats Story
By David H. Redinger, Engineer


    SHAVER LAKE -- This is a forgotten story of the golden age of Sierra developers. It is a charmed tale of an older America with men of vision who never thought of asking government to underwrite their business risks. It is also the story of Pacific Light & Power in the early days around 1910 when they decided to build a railroad, the San Joaquin & Eastern Railway.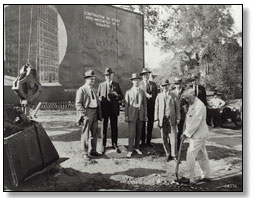 A survey party was in the Clovis area seeking the best route from Clovis through the foothills to reach Auberry At that time Friant was the Southern terminus of a branch of the Southern Pacific Railroad. Ground was broken in 1912 for a junction with the Southern Pacific six miles South of Friant and eighteen miles north of Fresno.
     The last spike was driven on July 10, 1912 completing the 56 miles to Big Creek. In the early '90's and long before the San Joaquin & Eastern Railroad was thought of, the Fresno Flume & Irrigation Company, for its own operations at Shaver, extended the county road north about two miles to what was known as Griffin's Shake Camp. Following the surveys made in 1902 by Mr. Eastwood, the San Joaquin Light & Power Corporation, under the direction of A. G. Wishon, continued the road and completed it into Big Creek in 1909, preparatory to starting development of the Big Creek Project themselves. The same year the J. G. White Company constructed for Wishon's company the present Pitman Creek weir, also one across Big Creek.
     The latter had to be destroyed in 1912 when Dam 4 was built. These weirs, like all such structures, were for the purpose of securing data on stream flow, since such information is of primary importance in connection with water power development.
     So far, the plans of Wishon's company did not include a road to The Basin (later named Huntington Lake), as it was contemplated that freight and passengers would be transported by an incline cableway. The ground clearing for this had already been done.
     Mr. Wishon told me he made a special trip to Los Angeles to promote the construction of a road about which there was disagreement among the directors. His sales talk, apparently, had some effect, and the present road was built in 1910, with an outfit consisting of ten men, one team, a plow and a scraper.
     H. B. Howard and Charlie Miller, with hand level and tape, were the engineers. Maximum grade of 12% was intended, but due to the lack of full cooperation on the part of the directorate for a road of any kind, there resulted one much steeper stretch just above the "saddle" which remains a bugaboo to many motorists, and which can easily be identified on almost any hot day by cars stalled due to over heating.
     Negotiations had been completed for the Pacific Light & Power Corporation to take over, and contracts for designing and constructing what is known as "the initial development" were executed early in 1912 with the Stone & Webster Engineering Corporation, which was then building the railroad to Big Creek. Headquarters which had been established in Old Town, on the south bank of Pitman Creek, were moved to the present location, then called Camp 2, late in 1911. Bunk houses were being built, and the mess hall had been opened early in December.
     The first automobile to reach Big Creek from Auberry, via Indian Mission, Stevenson Creek and Dawn, arrived on December 11, 1911, the occupants being S. L. Shuffleton, F. M. Thebo, Arthur F. Blight, A. C. Criddle, and Bill Wright. As far as Dawn, which became a station, the route traveled by this party was almost identical to that over which the railroad was built shortly thereafter. From Dawn the car came via Camp 6 over a newly constructed road which joined the present state highway at the foot of the Shaver grade. This junction is the beginning of what we now call our Lower Road.
     The area which Big Creek occupies is said to have been used by Potter and Freeman as a sheep range in 1870, and was known as "Big Creek Flats." In 1902 when John Eastwood made his principal surveys, and up to the time of beginning development of the project, the area was called "Manzanita Park."
     Some enlargement of headquarters was still under way when I arrived by train at three o'clock in the morning of August 13, 1912. In those days men carried their own bed rolls, or "bindles," and were known as "construction stiffs." Another favorite term for one's bed roll in construction parlance was "crumb pile" from "crumb," which the soldiers of the first World War called "cootie." "Crew Boss" was the name for a caretaker around bunk houses, since he had to "ride herd" over the occupants, many of whom in those days were quite apt to be infested with lice. "Bull cook" has become the more common name.
     Because of the early hour of my arrival as dawn was breaking in the east I crawled into a huge pile of shavings in the unfinished office building until six o'clock, when the mess hall triangle sounded "all out." After breakfast the "crumb boss" suggested I provided myself with a mattress and directed me to the nearest barn, one mile distant where obtained large armful of straw. He then assigned bunk which there were three tiers around inside house. It is strange how quickly straw can harden in bed only springs are boards. Being greenhorn was happy to heave one of the bottom bunks. After first night learned why uppers so much more desirable than lower every time fellow above moved or turned over got chaff dirt his face.
     The old and reliable Sibley stove in the center of the room not only furnished too much or too little heat, depending upon the location of the bunk, but served too, as a drier for all the damp or wet clothing hanging around. Outside plumbing thrived in all its glory, and no one can fully appreciate how cold water can be until he tries to wash in an outside trough at six A.M., with the thermometer hovering between "zero" and "freezing," making particular effort to go higher. At such times it wasn't much of disappointment to find the water line frozen.
     After having contacted W D. Shannon and Arthur Blight, construction and division engineer, respectively, I was assigned temporarily to the party headed by Harry Banks for work on Tunnel No. 2, which eventually would carry the water from Power. House No. 1 to No. 2. Austin B. Mason was in direct charge as tunnel engineer, Harry Banks handled the transit, and H. B. Howard and I the tape, level rod and paint bucket.
     Our job was to keep the tunnel crews driving in the proper direction and at the correct elevation. Nine adits, each providing two headings, or faces, were employed to expedite driving. An adit, the opposite of exit, may be thought of as a side entrance to a tunnel anywhere between two portals. An adit may be on the same grade as a tunnel, or at a steep angle. If vertical, or nearly so, it would be called a shaft. Since there were so many headings, and as the work was on a twenty four hour basis, our party at times would be "run ragged" because blasting would occur at any hour.
     It was our job to go in after each round was fired, to give direction and grade, or elevation, for drilling the next. Like a train crew, we were on a call basis. Along the tunnel "battle front" the thunderous report from each dynamite blast was terrific, and the echoes would reverberate through the Big Creek Canyon, up and down, across and back, as though infuriated by the interference of the canyon walls. Zeus himself could not have done a better job.
     The pistol drill was used, as compared to the present much improved hammer type drill. A blacksmith shop stood at the mouth of each adit for the sharpening of the drill steel, which was done by hand. Today, most sharpening is done with a mechanical sharpener operated with compressed air. Instead of having storage battery or trolley locomotives for hauling out blasted rock or muck, we used mules.
     It was amazing to observe the intelligence of these animals. They would function almost automatically?about the only need for a driver was to see that they did not head for the stable during a trip outside, instead of returning for another load. The cars were loaded by hand, as the present day mechanical loaders had not yet been developed.
     By keeping progress charts, it was easy to forecast the date when any two headings should break through. To be on hand for the final check in line and grade just after a break through was an event iii which our party was always keenly interested, since it would be the final test of the accuracy of our work. The closures were good, both in alignment and grade or elevation.
     When the checks were made, especially of alignment, it was always a favorite stunt of the fellow who had gone beyond the break through to hold his pencil or plumb bob at least one foot off line. This gave the instrument marl a shock, since he would not know whether or not his helper was holding the pencil on the proper point, and fearfully would signal him in the direction that coincided with the line carried forward. Finally, what a sigh of relief the instrument man gave when he learned that both lines came together on the lead pencil.
     On my way through Fresno, enroute to Big Creek, I remained overnight at the Grand Central Hotel. It was extremely hot, and with many others I spent most of the night, until chased out by the "cops," in the Court House Park trying to keep cool. In checking out of the hotel the following morning, I arranged to have one large suit case kept in storage for about thirty days, leaving it on the floor in the lobby. Imagine my amazement when I returned one month later, after my first pay day, to be greeted by the suit case sitting I'll exactly the same spot where I had left it, intact in all respects, and well blanketed with dust.
     During my first travels over the job, I kept running across a most likable and busy little chap with rosy cheeks, who had a smile for everyone, and whom I took to be one of the "common herd" along with the rest of us. One day he asked if I were the fellow who had recently come down from Seattle, how I liked my job and if I were being treated all right. Finally, I asked him what he was doing, and it was then I learned he was Rex C. Starr, the ubiquitous assistant to the superintendent, Mr. Thebo.
[End Part 1 of 7 Parts.]
Copyright 2000 Tollhouse-Shaver Lake Free Press. All Rights reserved.