Lake Drowning
Body of teen found. The body of a 15-year-old boy has been recovered from Kern Lake in the Sequoia National Forest. A dive unit from the Tulare County sheriff's department found the body of Thomas Ramirez in the Kern Lakes area, just east of Porterville. The boy was on a backpacking trip with a group of boys and staff from the Pyles Boys Camp. They believe he went under Wednesday while swimming.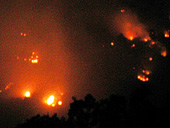 Auberry Wildfire! Early Sunday afternoon around 2:15 p.m., Clovis Free Press staff working in the office at 754 3rd. Street in Old Town Clovis, noticed a huge cream-colored mushroom cloud rising over the Sierra. Reporters quickly notified the Sierra National Forest Office on Tollhouse Road in Clovis.
Big Creek Flats
This is a forgotten story of the golden age of Sierra developers. It is a charmed tale of an older America with men of vision who never thought of asking government to underwrite their business risks. It is also the story of Pacific Light & Power...

John Muir Trail opens high Sierra
Completion of the mapping phase of the newly created John Muir Trail across the Sierra Nevada Range has been completed this week.
Sierra Nevada Fishing Report
Dinkey Creek: Freshly stocked by DFG this week.
Edison,Florence lakes:Mono Creek has browns and rainbows in the kreel.
Upper San Joaquin River: Jackass Meadow and Mono Creek freshly planted this week.
Hume Lake: Very good kreels. Large brown and rainbows. Huntington Lake: Large rainbows & browns near Rancheria Cove & at dam.
Mammoth Pool Reservoir: Good rainbow trolling for medium rainbows and browns.
Shaver Lake: Deep for kokanee.
Wishon and Courtright lakes: Good rainbows from shore and trollers at Courtright.
Also Fisheries Report is available in pdf format. Millions of Brown Trout planted earlier this year are maturing this week along the Piedra shores of the Kings River! Fish & Game stocked Dinkey Creek on Wednesday. Edison and Florence Lakes are reporting creels of Rainbows and Browns. Florence Lake has creels of Browns this week. Hume Lake is good, too. Tenmile Creek has Rainbows biting and was stocked with large ones this week. Huntington Lake is good. But, Big Creek near Dam No. is where you want to be!
~Historic Advertisement~
Fresno Flume & Lumber Co. All kinds of dressed and rough lumber for fruit and grape boxes, trays and shakes, doors, windows, mouldinmgs, flooring, and siding. Redwood and cedar shingles, posts and grape stakes.We give estimates of all kinds of buildings. We sell building paper, rooofing, Lime and cement. State your needs and let us serve you. 3rd Street Clovis Telephone Main-60 [From The Clovis Tribune, 1915].